Miley Cyrus recently
returned to Twitter
for two reasons:
To connect with her fans
Charlie Sheen
It seems like the latter may have been the bigger catalyst, too:
"'Do not fear, he Sheenius is here!' I'm not gonna lie. I came back to twitter for 2 reasons," she Tweeted. "My fans and to follow @charliesheen #winning."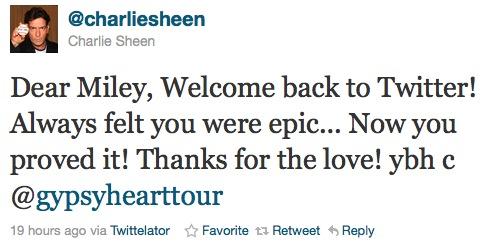 Charlie, who wasn't on Twitter himself until he went off the rails and got fired from Two and a Half Men, responded by welcoming Miley back with open arms!
"Dear Miley, Welcome back to Twitter!" Charlie Tweeted. "Always felt you were epic… Now you proved it! Thanks for the love! ybh c @gypsyhearttour"
The Chiley love fest didn't end there, either. Not by any means.
"@charliesheen I always felt the same about you!" Miley wrote the space cadet. "You have taught me everything I know about WINNING. Duh!"
That's pretty sad if true. But we're glad she's back, happy


Read more celebrity gossip at: http://www.thehollywoodgossip.com/stars/miley-cyrus.html#ixzz1Im8riJIv